"I love my new rug! Thank you for making such a beautiful piece for my dining room." -Cindi Sokoloff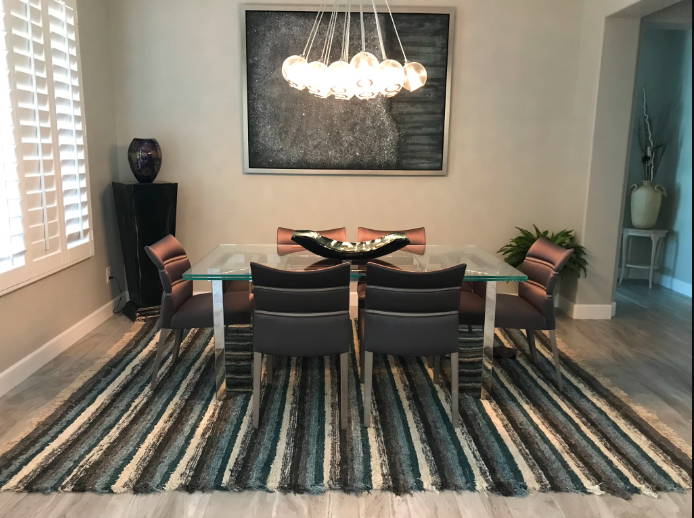 ---
"This is a picture of a 2ft, 4in x 8ft runner that we purchased for our hallway. We think it looks great, and it's just the right size. This was a special order, and we were amazed at how quickly the order was processed and shipped." -Paul Jackson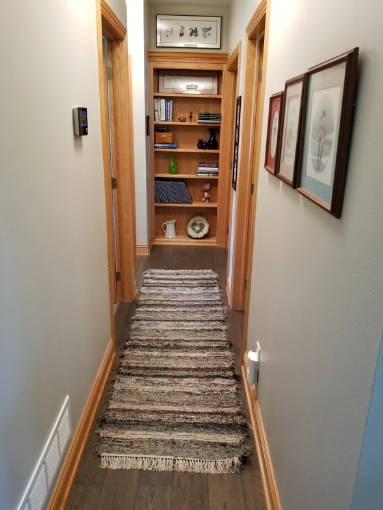 ---
"This is absolutely beautiful! It's perfect! Thank you for your quality craftsmanship!" -Matt and Suzanna Sieren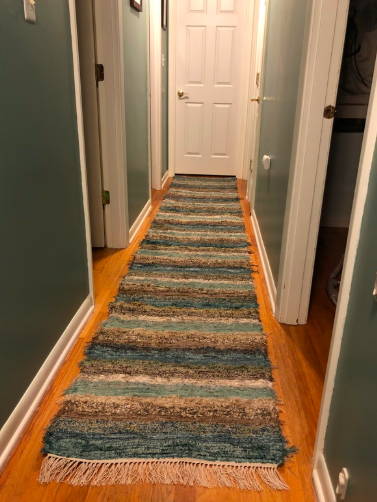 ---
"We are absolutely thrilled with our custom rugs. They are extremely high quality, reasonably priced, and Julie's work with colors is amazing. We can't recommend this business highly enough and we hope to be able to buy a much larger rug before the end of the year!" -Debi G, NC
---
" I ordered a custom sized runner that fits perfectly and looks fabulous in my kitchen. I am so pleased." -Lynda, AZ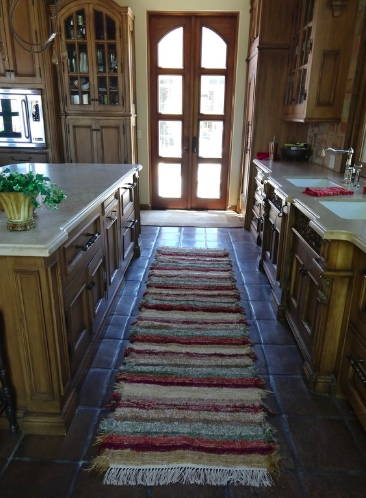 ---
"I Purchased the small rug at the Spearfish festival in the park and then ordered the large rug by text. This is my second set of rugs after wearing out the first set and changing our kitchen colors. Thanks for our rugs! We love them & they look great!" -Sherry Hanson, Norfolk, NE.
---
"I viewed a website and was able to see the large variety of colors and sizes these rugs came in. I was delighted to learn I could special order the rugs in the sizes and colors that coordinated with my kitchen needs. When my two beautiful large ( 30 " by 70 " ) arrived, I was so thrilled. They complimented and unified my kitchen color scheme plus they are very durable and skillfully made. I have had so many compliments on them. Please consider getting these wonderful rugs to beautify your home." -Jane A. Naaau, MN
---
"I love being able to order the size and color I want and not have to settle for the size or color available in the store." -Monique Sioux Falls
---
"We have purchased several rugs from inweave this past year, pictures attached. We have been very pleased with the quality of the rugs and colors that where available to choose from. We found just the sizes we wanted and one size they special made for us. Having installed wood laminate floors this past year we found the rugs went very well with this type of floor and the colors really complimented the floors." -Duane and Carol Aldrich Hawarden, IA
---
"I love my Inweave rugs! They are the perfect final touch to my decor, and I have received many compliments on them." -Kathy H., Spencer, Iowa
---
"I just love the rugs that I've been making from the trimmings. They turn out beautiful and wear very well. In fact, just this last weekend I took four of my rugs to a Guild meeting and received wonderful comments on them. Four of my friends asked for your website so they could get some trimmings to do their own rugs plus someone there that is building a new house asked if I would weave some custom rugs for her in specific sizes and colors. I also taught my nephew how to weave last summer and he did a rug up for his 4-H project and won a purple ribbon at the State Fair in Des Moines" -Kim H., Des Moines, Iowa
---
"Walking down the street at an art festival my husband said,"look at those great rugs". We stopped and looked and ordered a rug!! We went home to measure so that the rug we ordered would fit our space exactly. It was delivered on time and we have had nothing but great reactions to the colors and what it did for our kitchen eating area. My rug has earned many compliments from friends and neighbors. I love the way Inweave worked with me to use just the right colors to compliment my room. Their service and kind suggestions were exempletory." -Sandi H., Climbing Hill, IA
---
"Purchased a 6 × 6 rug for under the family eating area 44" square antique table. Orange, brown, green and gold color combinations were well done from just conversation and rug was delivered within just 2 weeks of ordering. Really liked the special size to fit our need. Pricing was great and staff was very friendly and helpful." -DC Norwalk IA
---
"I first saw your rugs at Riverdays. One of my sisters and I took a road trip to Haywarden to see the Up Close and Personal place they were made. I can`t recall ever being this excited about floor coverings. The colors are vibrant and the textures are wonderful. I am enjoying the 8 rugs I purchased. The fiesta rug is 5x6 and is in my office. The rug in front of the fireplace is 3x4. I have had many compliments and am totally enjoying these made with care rugs. If they ever wear out I will be ordering more. I love the fact that I can pick each color combination and when I came to your business I was happy to see the colors were exactly as depicted on the web site." -Gail C., Norfolk, NE.
---
"Several years ago I had you make me a special size rug, I loved it. When we remodeled our basement I needed new rugs. I knew your rugs would help me pull it all together. They did! Thanks." -Carolyn H. Alcester, SD
---
"I knew I wanted only the best when accessorizing our new home. That's why I custom ordered a large area rug from the In-Weave. My rug from the In-Weave far exceeded my expectations. It's not only functional, but also a gorgeous work of art. Thank you, In-Weave. You are true Artisans!" -Shari B. Sioux Center
---
"I bought two matching rugs a couple years ago and couldn't be happier with my purchase!! They wash and vacuum so nicely! Also, because of the variety of colors involved they match so many different things and wall colors!! I love these rugs!" -Heidi R. Mitchell, SD
---
"My sister and I went shopping to your fair city to look for rugs for my sister's new floors. We could not find anything in Sioux City that we liked. I found your store in the yellow pages. We were so happy with our trip there. We purchased yards of fabric besides all the rugs she purchased for her floors. they make all the difference in the world to see how they look on her floors. When I first saw her floors, I truly did not like the way the finish was. After she laid down the rugs we found at your store, it was an amazing difference!! They really make a clean, beautiful look to her kitchen and bathroom. she can shake them out, lay them back down and they look so nice. She has had lots of compliments from her visitors. It certainly was worth the trip. When you have your fleece on sale, please let me know and we will make another trip." Sincerely, J. Hughes
---
"We had gotten new flooring in our kitchen, and happy to find some textured rugs to blend with the colors. They are so soft and adds cushion under our feet. When I shake each one, I keep the same side up, so the rug will just get dirty on one side at a time. They are not any more costly than the cotton rugs at a dep`t store. We enjoy our rugs and all the compliments received! I bought 4 Inweave rugs. They blend well with our new kitchen and bath room flooring I just shake and put the same side up until it gets dirty then will use other side, then it will be time for a wash job. Am enjoying them." -Bertha N. Sloan, Ia